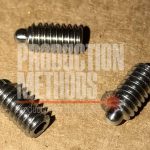 90191000 or WC-055 Custom Machined Hemispherical Tip Set Screw**
$7.31 each
** Required for proper alignment of tools on DCS 2500, DCS 3500, and Taurus systems. These are manufactured to the original OEM specifications. Use of the wrong set screw can cause alignment issues which can be permanently detrimental to your machines cutting performance.
American Made
It is true that some parts come from outside our borders but only when that is the only source. If it is made in America – we buy it!
Contact us directly for bigger discounts
Note* Be sure to check your junk or spam folder if you have made an information request. Due to the spam filters in place at most companies, often the first exchange is filtered out until our domain (or our email address) is marked as safe.