Robotic & Automated
Production Methods has decades of  experience with PLC and Robot cell applications. We have developed many new Robot work cells and PLC controlled machines as well as adaptation of existing systems and programs to suit new applications.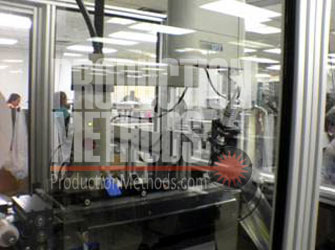 Often times a completely new manufacturing cell can be developed with used equipment from a very different application. Our engineers will study your current process and develop or adapt automation to speed the process and eliminate waste.
Re-programming PLC and Robot equipment is another service we can offer. We have experience dealing with Fanuc Material Handling and Welding systems like the Arcmate 16i, as well as Sony pick and place systems like the SRX-511 and SRX-611. Fanuc, Sony, Staubli, Adept, Siemens, Allen Bradley, Omron, Pro-Face, Automation Direct, Yamaha, Montech are just to name a few of the systems we have experience with.
We have experience with Systems conversion and total system development from the ground up. We work with your production staff to develop machines that will work for you.
Our experience includes: Fanuc, Sony, Allen-Bradley, Omron, Montrac, Sysmac, and more. Pneumatic, Hydraulic, or pure mechanical are all areas of experience.
On many projects we partner with MX Automation. A robotic engineering firm with decades of experience. To learn more about MX Automation, visit their website at www.mxautomation.com.
Production Methods buys used equipment to refurbish and resell to new and existing customers. To learn more visit our Used Machine Procurement page.
Production Methods sells and maintains some of the most common cutting machines available. To learn more visit our Cutting Machines page.
Production Methods buys and sells parts for the machinery we sell and maintain. To learn more about buying parts visit our Supplies page or for selling used parts visit our Parts Procurement page.