About Production Methods
Production Methods LLC was incorporated in 1999 in New York State. Founded as a way to offer cutting room services to companies that wanted or needed to outsource, we initially started as a Contract Cutting operation. We had great success in the Composites, Automotive Seating, Furniture, Marine Canvas, Highway Symbol, and Apparel industries.
Due to customer influence, in late 2002, we altered our course slightly to be more of a machinery supplier to the cutting room. This came to include machines, service, training, consumables and parts for what we were selling.  This has led us to where we are today, as a major player in the used automated cutting machine industry.
We stand apart from the crowd offering complete service, parts and training for the machines we sell, and we operate with an extremely high level of integrity. This is a philosophy that starts from the top down.  Our goal is to treat our customers how we would like to be treated.  Most of us here at Production Methods have run the machines we sell and have counted on them to work for us.  We know what it costs to be down, and we strive to achieve as close to zero down time for our customers as possible.
Production Methods LLC's customer list includes Multi-Billion Dollar Aerospace Companies, Major Furniture Manufacturers, and large companies across a variety of Industrial Fabrics Applications. We serve customers from thousands of employees all the way down to one or two man shops. We have machines making everything from Duck Booties (yes that's a thing!), to furniture and space vehicles.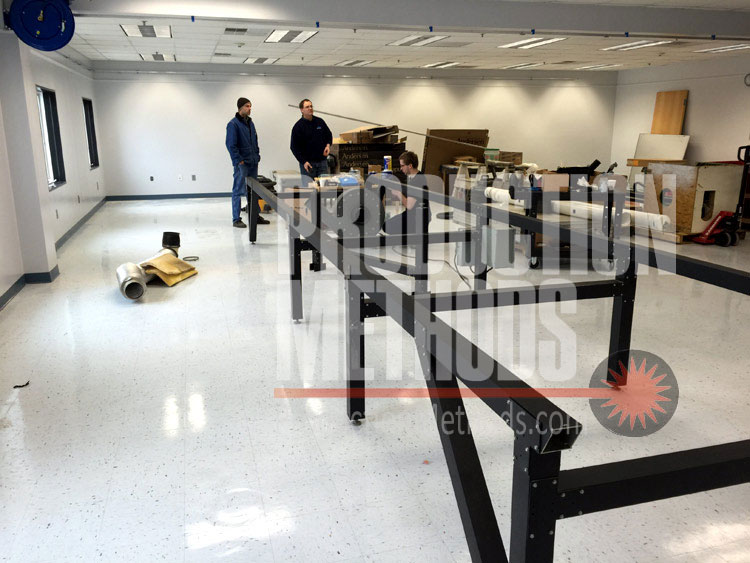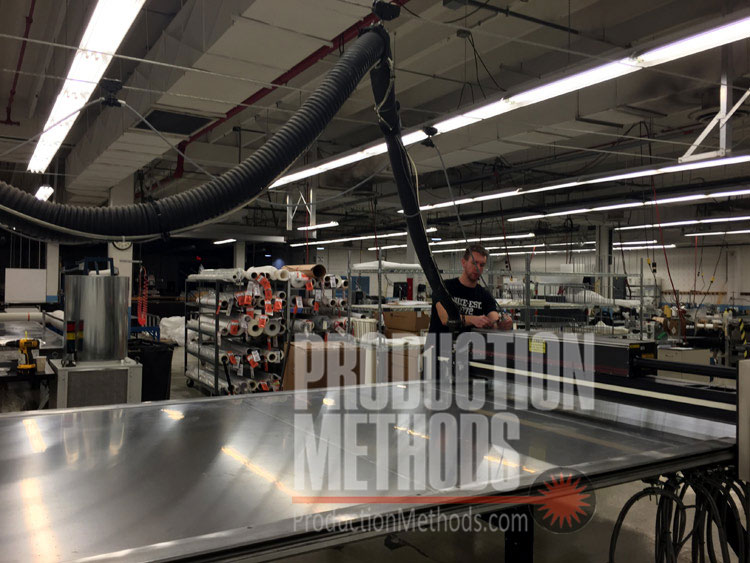 ALL of our customers are important to us, and we serve ALL of them with equal attention to detail and priority. We know from experience that time is money, and having equipment running is the key to success. Unlike the OEM machine suppliers and other used machine brokers, we consider all of our customer's needs a priority, and will work tirelessly to be sure that all machinery we sell and service is working to the maximum benefit of its owner(s). Don't be left out in the cold waiting for a call back. Get involved with the Production Methods team and experience the difference.
It's simple. We take care of the people who take care of us. If you're successful, we're successful. Our first customer from back in 1999, is still a customer today. We want to and have long term relationships with our customers. We are there as they grow and succeed, and continue to meet their needs now and in the future.
Andrew C. White Sr – President
Andrew first ran an automated cutter back in 1985, at North Sails Loft in Maryland. This and a fascination with electronics from an early age led to the development of new control systems on that cutter, with the help of some documentation a great teacher, and a good electronics store. This fueled an interest that in early 1991 at Sobstad Sailmakers in MD started the track that led to the present.
Sobstad had purchased a DCS500 automated cutting machine from a little company in Massachusetts by the name of Cutting Edge Inc. It was machine #2, and it was a laser cutter. From late 1991 to late 1994 that machine was Andrew's responsibility. The service, the operation, the nesting, Cad work, and whatever else was needed, he did, or one of his people did. By late 1994 Andrew was the Production Manager for that sailmaker, but the room for advancement upward had run out. In his job search he contacted Cutting Edge Inc., as the three principals of the company had installed that DCS500 so he knew them. Especially the member of the trio that was in charge of parts and service. By September of 1994 he was hired on as a member of the customer service and tech support team.
During his time at Cutting Edge Inc., Andrew carried various titles. Well, added hats is more like it. Tech Service Engineer, Sales Engineer, Laser Product Specialist, Liaison to GM, Leather Product Specialist, Sales Engineering Manager, Technical Service Manager. Technical Service Manager was the title he had when Cutting Edge Inc., was purchased by Gerber Garment Technology in early 1997. They bought Cutting edge to acquire the DCS2500, DCS3500, and the TLCS leather system which is the predecessor to the Taurus 1 and Taurus 2.
Andrew stayed on at Gerber for a time, but eventually moved on to become Technical Service Manager for Eastman Machine Company for their Automated Fabric Cutters. From late 1997 through the middle of 2000, Andrew worked for Eastman as Technical Service Manager, and later in Sales. By June 1st of 2000 Andrew was full time as President of Production Methods LLC, and has held that position ever since.
Starting out contract cutting initially, Andrew started to receive more and more contact from old customers who wanted his help. What they wanted was the service they had come to expect from Cutting Edge and Eastman, and didn't feel like they could get there anymore. With due consideration Andrew changed the focus of the company from cutting parts to offering the ability for customers to cut their own. Production Methods sold its first used automated cutting machine in November of 2002, and the second in December of that year. From that moment on it was machine sales, parts, training, and all associated technical service to meet the needs of our customers.
Now all these years later we are going strong, and have managed to add team members and products to our repetoire that only enhance our capabilities. Many machines sold, many successful customers. Their success is our success. Come see what we can do for you.
Put our experience to work for you today!
Production Methods offers specialized solutions custom tailored to your business. With decades of manufacturing experience, your business needs are well understood and we will work with you to find the solutions for the services your company provides.
Production Methods has the ability to provide solutions for your business anywhere in the world – across North America, Europe and even the Far East.